What to do if you've Put Unleaded in a Diesel Car?
If you've accidently put unleaded in your Diesel car, then there are two scenarios; the first is whether you've driven some miles or not, and the second one is if you've realized the mistake pretty early or not.
If you have driven your car for a considerable distance and your car stops automatically, then you're in for a harsh reality. That means your diesel engine has been partially or completely destroyed, and you might have to pay quite a hefty amount for repairs.
But, if you've realized your mistake and have shut the ignition by yourself, then you don't need to worry about anything. In that case, you only need the tank drainage and refuelling of Diesel in your car and your car will be ready to roar. You can easily hire a good fuel drain company for that purpose.
Petrol in diesel Vauxhall ADAM fixed
Problem:
Petrol in Diesel
Why choose Us?
Was top on Google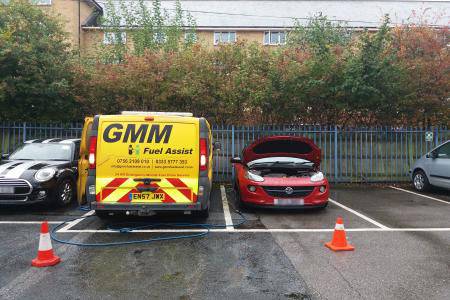 In the evening, Jon Sullivan set off for Leeds from Rochester, UK for his night shift in his Vauxhall ADAM. He went to the fuel pump to get his car tank full with Diesel. But, he made a mistake and put unleaded in his Diesel tank instead. He didn't realize this mistake until he had driven a few miles.
Luckily, his Vauxhall ADAM's engine didn't shut off. He stopped the ignition and looked for ways to get the tank flushed. He found petrolindiesel.uk on Google and called our team. We went there on the exact spot with our mobile petrolindiesel.uk fuel drainage van, drained all the unleaded from his Vauxhall ADAM's tank and refuelled it with Diesel. His car started again and he reached Leeds on time.
Best Petrol in Diesel Car Drain Company
petrolindiesel.uk is the best Service if you have mistakenly put Petrol in your Diesel car and have realized the mistake in time. All you need to do is call our team and we'll reach you in near to no time. We'll drain all the Petrol in your Diesel tank and engine, and will refuel your car with Diesel. Soon, your car will be ready to be driven again. Feel free to hit us up with your queries. Our team is ready 24/7 to help you out.